Rotary Tables – A Different Dimension
Rob Beckett, Workholding Product Manager at Hyfore, looks at some of the reasons fueling an increase in popularity for 4th and 5th axis rotary tables.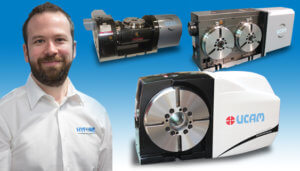 Machine shops are increasingly being constrained for space and companies are looking to get even more out of their current machines when looking to meet customer demand for quicker lead times and more complex components.
With floorspace at a premium and Brexit causing some investment decisions to be put on hold, we have seen a major increase in the number of enquiries for 4th and 5th axis rotary tables at Hyfore.
These are coming from customers involved in the automotive, aerospace, medical and packaging sectors, where high precision parts are increasingly the norm and more small batch orders are proving common.
This would normally come from machinists who have a 3-axis machine, but are looking for greater flexibility without having to spend a considerable amount of money on a 5-axis machine. For example, the software, motors, cables and rotary table could cost between £25k and £30k, compared to a new machine starting from £140,000.
It may just be an initial order or a speculative project, so being able to cost-effectively test the market or deliver on a specific component is worth its weight in gold, as manufacturers temper their desire for growth with ensuring that don't financially overstretch themselves.
Hyfore's strategic partnership with UCAM has seen us become an exclusive UK distributor for their precision CNC Rotary Tables.
It is known for its quality, reliability and performance, with its tilting capability allowing components to move 360 degrees so that the cutting tool can machine on all five sides, reducing secondary and third operations in the process.
We are currently working on eight live enquiries and our approach is to go into a manufacturer and look at their specific project, what they are machining and what future capacity they may need.
This gives us the insight we require to suggest a number of solutions and, once the package is agreed, we can deliver the 4th or 5th axis rotary table within four weeks.
These can be fitted by the customer or through our own internal installers and network of sub-contractors.
Rotary tables are an interesting ingredient in the current machine shop debate. They're not right for every application, but they can certainly add an extra dimension to your capabilities at a relatively low cost.
Have a look at the rotary tables we have on offer at Hyfore.Shop
Back to Blog