Universal support and clamping technology for production, metrology and assembly
Matrix GmbH has been a developer of mould clamping systems since 1997 when they began development of their unique pin cushion-inspired clamping system. The first system went into production in 1999, with series of updates and adaptations released since.
The pin gripping function allows for the secure and damage-free gripping of complex or otherwise awkwardly shaped workpieces. This unique gripping system is the ideal solution for manufacturers of complex, bespoke components.
What Matrix offer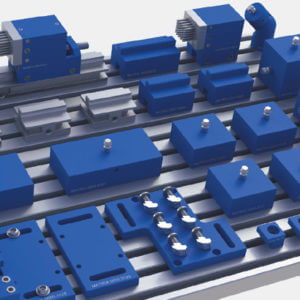 Blue Clamp
This range allows goals to be met quickly and cost-effectively with small numbers of compact modules. Pin and function modules are grouped together to form modular kits. All of the elements in these systems are multi-functional and compatible. As a result, the number of individual modules is deliberately kept low.
MATRIX replaces costly specialist fixtures and heterogeneous molding elements
Even in combination with aluminum profiles, these produce large and complex measuring devices. Many suggestions based on customer experience have led to new concepts and solutions, and consequently to the development of new products.
See the range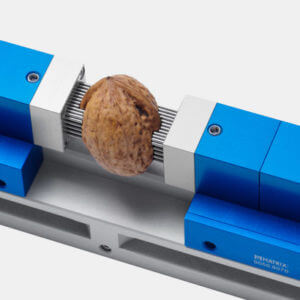 Mini Clamp
Small, lightweight and guarantees perfect support for even the most delicate components. The MINI CLAMP systems allow delicate components to be held quickly and precisely in laboratories and precision measurement rooms. Numerous individual modules and add-on parts are available for the modular construction. The system is assembled using just a single tool.
An optionally available adapter system allows the MINI CLAMP to be used in combination with other MATRIX products.
See the range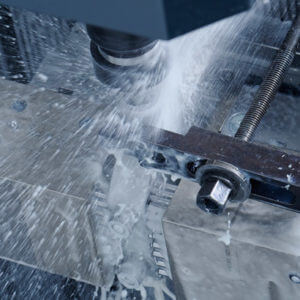 Silver Clamp
When fast results need to be achieved in prototype construction or in pre-series production, a fast, flexible and easy-to-operate clamping system is required. As a result, professionals are choosing the innovative and patented MATRIX SILVER CLAMP system.
The perfect form fit means that minimum force is needed to guarantee maximum grip, effortlessly withstanding the forces of mechanical processing. It is especially ideal for free-form parts or parts with a sensitive surface. The SILVER CLAMP systems offer users precisely the clamping system they need whenever they need it.
See the range