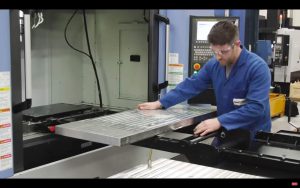 Hyfore Workholding Limited are proud to supply a Midaco pallet system to Mellish Engineering Services Limited., in Walsall. Mellish manufactures an extensive range of special fasteners including nuts, bolts, socket products, studbolts and washers.
Mellish identified that they needed to reduce loading times in order to increase productivity. Drawn to Hyfore thanks to their reputation for high-quality solutions, Mellish were recommended a Midaco pallet system and a series of jigs. Hyfore subsequently supplied the equipment which should serve to aid Mellish in improving efficiency.
Mark Rattenberry from Mellish was pleased to comment that downtime of the machine has reduced massively since the installation of the pallet system and resulted in a return on investment with 12 months.
Learn more about our range of Midaco products here.