Metrology: A measurement of success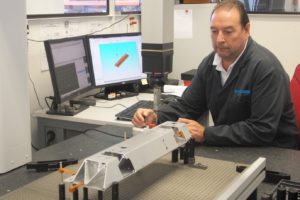 Metrology, or the scientific study of measurement, has recently taken the spotlight in the manufacturing world. While metrology covers the basic units of measurement that we are familiar with, metrology as a scientific discipline is concerned with calibration, accuracy, and quality control to ensure exact and confident measurements that reflect the precision required by engineering companies.
Hyfore offer a dedicated service to metrology, something many businesses will need but may not have the time or money to invest in. Metrology continues to shine through as a highly important part of engineering valued by many, but invested in by few. By bringing together metrology solutions with Hyfore's capability for low-run, prototyping, and bespoke manufacturing, the range of precision products that can be offered to businesses becomes huge. Hyfore have seen great success in combining a range of engineering solutions, including bespoke projects, and have been able to pass on savings in both time and money to customers time and time again.
Our joint managing director, Gary Dickenson, spoke of Hyfore's ability to combine different aspects of engineering to deliver high-quality solutions. "We develop fixtures and work holding and then prove out machining programmes on (effectively) production tooling.  We also write the programmes to support the process so that when we hand over to the customer for actual manufacturing, we can supply like for like production tooling with proven programmes both for metal cutting and CMM."
At Hyfore, we offer a high-end CMM sub-contract measurement service for all engineering companies, and with short notice availability. Our state-of-the-art Mitutoyo CMM Temperature Controlled Room is fully integrated to work with 3D models and has online and offline capabilities. In addition to our CMM service, we offer pre-setters, callipers, gauges and micrometres as measurement tools.
Metrology continues to show its importance as a key aspect of engineering on all levels. At Hyfore, we recognise this and offer our services to local engineering companies to ensure they too can benefit from metrology in their business.
Get in touch with us today and see what we can do for metrology in your business: https://hyfore.com/contact-us/
Back to Blog