With the UK's most diverse range of workholding and tooling solutions, Coventry-based Hyfore has recently taken delivery of a Mitsubishi MV2400R wire EDM machine. As a company that designs and manufactures bespoke workholding solutions to complement its unfathomably diverse range of standard product lines, the new wire EDM will expand the service offering of the UK's leading manufacturer of high quality, bespoke fixtures and workholding systems for metal cutting, welding and assembly applications.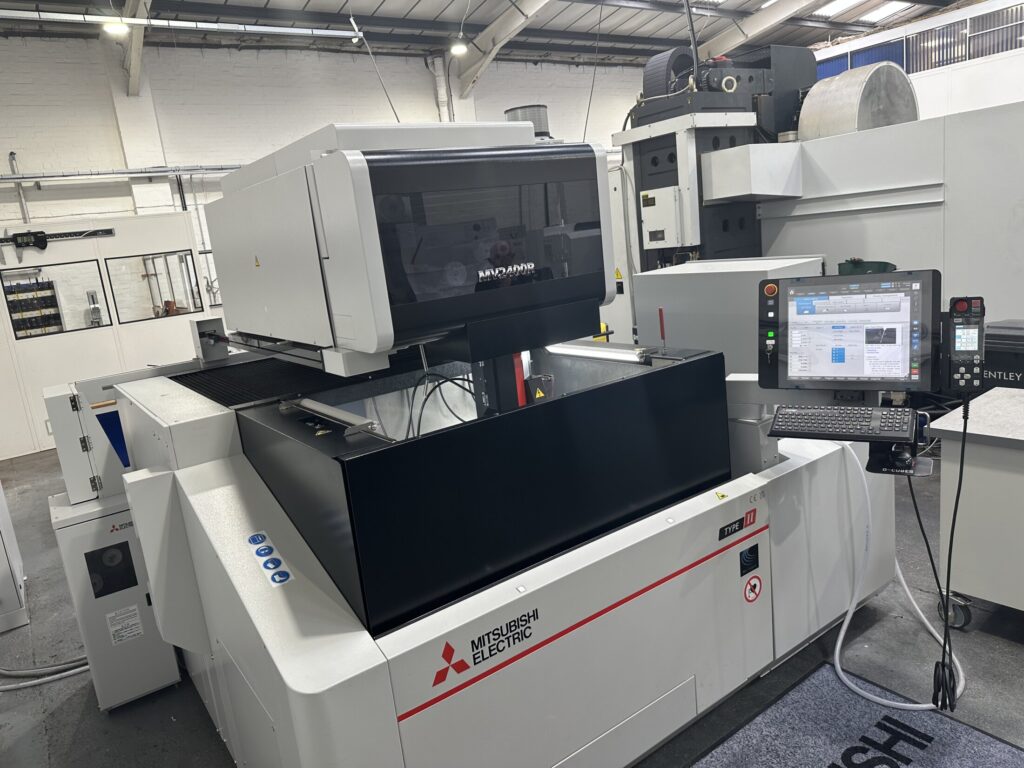 As a business that has been designing, developing and manufacturing workholding technology for more than 30 years, Hyfore has invested in the Mitsubishi MV2400R wire EDM machine to add flexibility to the company's manufacturing operations. Hyfore produces bespoke workholding jigs and fixtures for a diverse range of OEM manufacturers in the aerospace, automotive, medical and motorsport industries as well as the associated subcontract supply chains. Designing and manufacturing unique solutions for industry, Hyfore works within the parameters of ISO: 9001 to ensure its bespoke manual, hydraulic and pneumatic workholding and work clamping systems, as well as the design and supply of automation systems for ancillary production equipment for the manufacturing industry throughout Europe and the UK, exceeding customer expectations.
With upwards of 30 employees, the Coventry company has witnessed an upturn in its workload, and this prompted the acquisition of the Mitsubishi MV2400R wire EDM machine. The day-to-day operation of the business requires a fast turnaround of bespoke projects with a significant proportion of its workload encompassing prototype, small volume and subcontract manufacturing – it is for these very reasons the company selected the Mitsubishi MV2400R.
Undertaking the full workholding service from consultation and design through to the manufacture of complete bespoke fixtures and workholding solutions, Hyfore has a team of engineers and designers dedicated to providing complete turnkey solutions that encompass complete mechanical and electronic design using CAD/CAM 3D modelling. Whilst this capability gives Hyfore a clear advantage when viewing complex fixtures and tool cutter paths in relation to the fixture design, the Mitsubishi MV2400R will enhance the precision and accuracy of complex fixtures and solutions, expedite throughput from design to delivery and subsequently benefit the end user.  
Commenting upon the acquisition, Hyfore Workholding's Mark Covill says: "There are multiple reasons why we invested in a new wire EDM machine. Firstly, we manufacture an extremely diverse range of fixtures and workholding solutions that demand the utmost in precision, quality and surface finishes. Before the arrival of the EDM machine, some of our complex work had to be subbed out to external suppliers. The wire EDM will enable us to bring this work in-house and gain greater control over our quality, lead times, costs and overall manufacturing processes. Some fixtures demand EDM processing and the wire EDM will solve this. It will also give our design department greater freedom to experiment with exciting concepts and solutions for customers."
Adding to this, Mark says: "In addition to our workholding and fixture manufacturing service, we already offer comprehensive subcontract CNC machining services. The wire EDM will complement our existing CNC machining offering that is fully supported by our internal ISO: 9001 quality control procedures that are undertaken with our own CMM. The wire EDM expands our service offering to our customers and will enable Hyfore to attract more subcontract work with a complete service package. We can help subcontract manufacturers that are at capacity, have urgent jobs that need turning around or simply do not have their own in-house EDM expertise."