Made in the Midlands is an organisation founded to counteract the erosion of industry in the Midlands. Their success has resulted in them boosting local businesses and hosting their own event once a year at Coventry's Ricoh Arena, the Made in the Midlands Expo.
As a member of Made in the Midlands, Hyfore regularly attends the Expo, with 2019 being no exception. With several hundred exhibitors, Hyfore is always determined to make an appearance and showcase some of the Midland's finest.
Operating the stand this year were Oli Riley and Rob Wait. The guys were keen to get stuck in and make their presence known.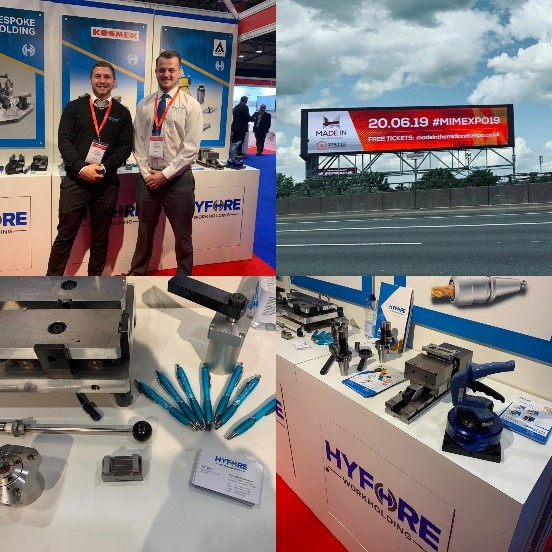 "The Expo gives us the opportunity to meet new people and network with people we already know. It helps get our name out there a little bit more, we get people approaching us, and we can approach other people. It gives us the opportunity for more business" – Rob Wait
Hyfore remains proudly Coventry-based and supplies to a number of industry-leading firms throughout the Midlands.
"It's a good opportunity for us to hone in on the fact that we're from Coventry. Coventry's quite prestigious when it comes to the automotive industry and a lot of engineering and manufacturing, so it's quite good to stick with our roots. Especially with the fact that the Expo's actually in Coventry at that Ricoh arena, it's perfect." – Oli Riley
"I think it's [manufacturing] definitely back on the up again. We're seeing a lot of stuff in the Midlands, and around the country really that's starting to pick up more. Being out on the road and seeing different customers and speaking to them more often we find that actually, they're benefiting from new projects coming about, and hopefully, it continues." – Oli Riley
Hyfore's role in this growth has been key. By supplying key growth industries with the state-of-the-art workholding technology they require, Hyfore have made their mark.
"We're right in the middle of it really. We're dealing with that many different industries that it gives us a wide opportunity; we've got products for so many different applications. There's aerospace, automotive, medical and education even, so we're dealing with so many different people. Hyfore's constantly growing." – Rob Wait
"We're constantly expanding and diversifying, constantly looking to expand our client portfolio and further our reach. We've got three new sales staff starting within the next six to twelve months which will help us enhance our workholding solutions offering. We're definitely seeing an increase in business and are looking to reinforce our already strong position in the market." – Graham Cherry, Sales Manager
The Expo marks its 10th year in 2019 and is set to continue to be a platform for growth for years to come, something that Hyfore have no intention of neglecting.
"I definitely don't think we'll see it changing any time soon. It's good to come along and network with existing customers and other members because it's easier just to have a chat here than it is sometimes to see them in their own environment when they're busy and they haven't got time to see you because they've everyone asking them questions all the time. Some people are obviously so busy that it's hard for them to get out, so when they're here, it's a nice comfortable, relaxing environment." – Oli Riley
To learn more about Hyfore's range of precision workholding solutions, click here.