New corporate identity for Hyfore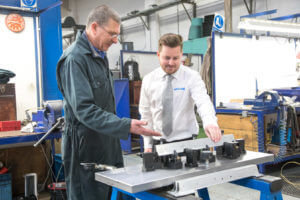 Hyfore — a work-holding specialist that employs 36 people at its Coventry facility — used its appearance at Southern Manufacturing & Electronics last month to showcase its new corporate identity and on-line shop (www.hyfore.shop).
A successful 12-month period has seen the company grow by 15% and become a partner to manufacturers looking for bespoke jigs, fixtures, gauges and work-holding systems for use on CNC machining centres.
Gary Dickenson, who runs Hyfore with Darren Underhill, said: "Our reputation has been built on our ability to work with customers on designing and manufacturing work-holding that allows them to get the most out of their machines; this includes clients producing precision parts for the automotive sector and commercial vehicles.
"The reason behind the new brand is to reflect our modern approach to manufacturing and to create a sleek identity that covers both our traditional activity and the launch of the Hyfore Shop, which we believe could generate up to
£1 million of sales in its first year.
"This is an integral part of our growth plans; it will help us to achieve our vision of hitting a £5 million turnover in 2017 and then accelerating sales to £10 million by 2020."
Rob Beckett, who runs the on-line shop, said: "We have spent the last six months amassing more than 40,000 different products that can be used with CNC machining centres sold across the world.
"These range from off-the-shelf vices, collets, gauges and chucks to specialist parts, including pallet changers and 4th- and 5th-axis tables. This is just the start; we aim to be at about 100,000 products by the end of the year, making it arguably the best-stocked virtual shop in the world.
"Our work in bespoke work-holding gives us a great insight into what customers need — and how quickly. This has been fed into the set-up of the Hyfore Shop, with an easy-to-use Web site for next-day delivery, available in the UK."
Article Source: http://www.machinery-market.co.uk/news/17105
Back to Blog