Hyfore: MACH 2018 exhibition
For anyone that has exhibited at a large show previously, you'll understand the preparation is vast – from the logistics to the long hours, it's only a few weeks till after the actual event do things finally get back to normality.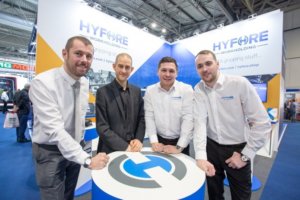 Now that the dust has settled and we've all finally had time to catch our breath, I'd like to personally take the time to thank everyone involved in both the preparation and management of the Hyfore stand during the MACH 2018 exhibition.
Over the five-day event we welcomed hundreds of attendees onto our stand, giving clients and prospective clients the opportunity to speak personally with Hyfore experts, whilst growing our national and international connections.
Designed by Warwickshire based media agency Formation Media, our stand proudly showcased our collection of trusted partners including Spreitzer, UCAM, Hardinge and Matrix, whilst physically exhibiting some of their products, highlighting the benefits of automation.
It's fantastic to see the industry flourishing, and I speak for not only myself but the rest of the team on the stand also when I say it was a proud moment to stand amongst so many pioneering companies in the British manufacturing industry.
If you missed MACH 2018 this year, please refer to our website (hyfore.com) for all the latest information and news at Hyfore, or visit our online shop (hyfore.shop) for our latest stock.
To keep abreast of any future exhibitions, please sign up to our mailing list: http://eepurl.com/cqZnET
Darren Underhill,
Managing Director, Hyfore Workholding
Back to Blog